We raise all of our cattle from birth over 2500 acres of open fields and blue skies without hormones, chemicals, or steroids to ensure the best quality meat for your family. During the final 6 months they are switched to grain from a local brewery and distillers mash. A grain finish yields a highly marbled, tender and tasteful steak so you don't have to compromise on taste either.
Meat Process Farm To Table
T-Bone Steaks
The T-bone is a steak of beef cut from the short loin. It includes a "T"-shaped lumbar vertebra with sections of abdominal internal oblique muscle on each side. T-bone steaks are cut closer to the front, and contain a smaller section of tenderloin. The smaller portion of a T-bone, when sold alone, is known as a filet mignon, especially if cut from the small forward end of the tenderloin.
T-bone steaks are suited to fast, dry heat cooking methods, such as grilling or broiling. Since they contain a small amount of collagen relative to other cuts, longer cooking times are not necessary to tenderize the meat.
Round Steaks
A round steak is a beef steak from the "round", the rear leg of the cow. Lack of fat and marbling makes round dry out when cooked with dry-heat cooking methods like roasting or grilling.
Round steak is commonly prepared with slow moist-heat methods including braising, to tenderize the meat and maintain moisture. The cut is often sliced thin, then dried or smoked at low temperature to make jerky.
Minute Steak
Minute Steak or cube steak is a cut of beef, usually top round or top sirloin, tenderized and flattened by pounding with a meat tenderizer. The name refers to the shape of the indentations left by that process (called "cubing"). This is the most common cut of meat used for the American dish chicken fried steak.
Sirloin Steak
The sirloin steak is cut from the sirloin, the subprimal posterior to the short loin where the T-bone, porterhouse, and club steaks are cut. The sirloin is divided into several types of steak. The top sirloin is the most prized of these and is specifically marked for sale under that name. The bottom sirloin, which is less tender and much larger, is typically marked for sale simply as "sirloin steak". The bottom sirloin, in turn, connects to the sirloin tip roast.
Hamburger
Ground beef is beef that has been finely chopped with a knife or a meat grinder and is generally made from the less tender and less popular cuts of beef. Trimmings from tender cuts may also be used.
Ribs
Ribs are a cut of beef taken from the brisket, chuck, plate, or rib areas of beef cattle. They consist of a short portion of the rib bone, which is overlain by meat which varies in thickness. Brontosaurus Ribs are about 6″ in length while Short Ribs are about 4″ in length.
Rib Loin
Butchers frequently refer to the section of meat below the rib cage, but above the round (in a carcass hanging from the head end) as loin. Various names of meats further butchered from the loin section of cattle contain the name "loin" such as tenderloin and sirloin. The loin section of meat from the top half of cattle is divided into three sections. The various cuts of beef from this section are named sirloin, tenderloin, top sirloin, and short loin. They are named for their respective parts on the cattle.
Beef Roast
Beef Roasts are the Chuck, Arm, and Rump Roasts. Standard is 2 pounds per Roast. The general guideline is one pound per person.
Flank Steak
Flank steak is a cut of beef taken from the abdominal muscles or lower chest of the steer. A relatively long and flat cut, flank steak is used in a variety of dishes including London broil and as an alternative to the traditional skirt steak in fajitas. It can be grilled, pan-fried, broiled, or braised for increased tenderness. Grain (meat fiber) is very apparent in flank steaks, as it comes from a well-exercised part of the cow, and many chefs cut across the grain to make the meat more tender. Flank also serves as a common cut for steak jerky.
Brisket
Brisket is a cut of meat from the breast or lower chest of beef. The brisket muscles include the superficial and deep pectorals. As cattle do not have collar bones, these muscles support about 60% of the body weight of standing or moving cattle. This requires a significant amount of connective tissue, so the resulting meat must be cooked correctly to tenderize it.
Brisket can be cooked many ways, including baking, boiling and roasting. Basting of the meat is often done during the cooking. This normally tough cut of meat, due to the collagen fibers that make up the significant connective tissue in the cut, is tenderized when the collagen gelatinizes, resulting in more tender brisket.
Stew Meat
Stew Meat is made from the choice hamburger trim prior to grinding.
Neck Soup Bones
Neck bones good for soups and stocks.
Shanks
The beef shank is the leg portion of a steer or heifer. Due to the constant use of this muscle by the animal, it tends to be tough, dry, and sinewy, so is best when cooked for a long time in moist heat. It is an ideal cut to use for beef bourguignon. As it is very lean, it is widely used to prepare very low-fat ground beef. Beef shank is a common ingredient in soups and beef stock.
Organs
Organ meats consist of the liver, heart, oxtail, and tongue.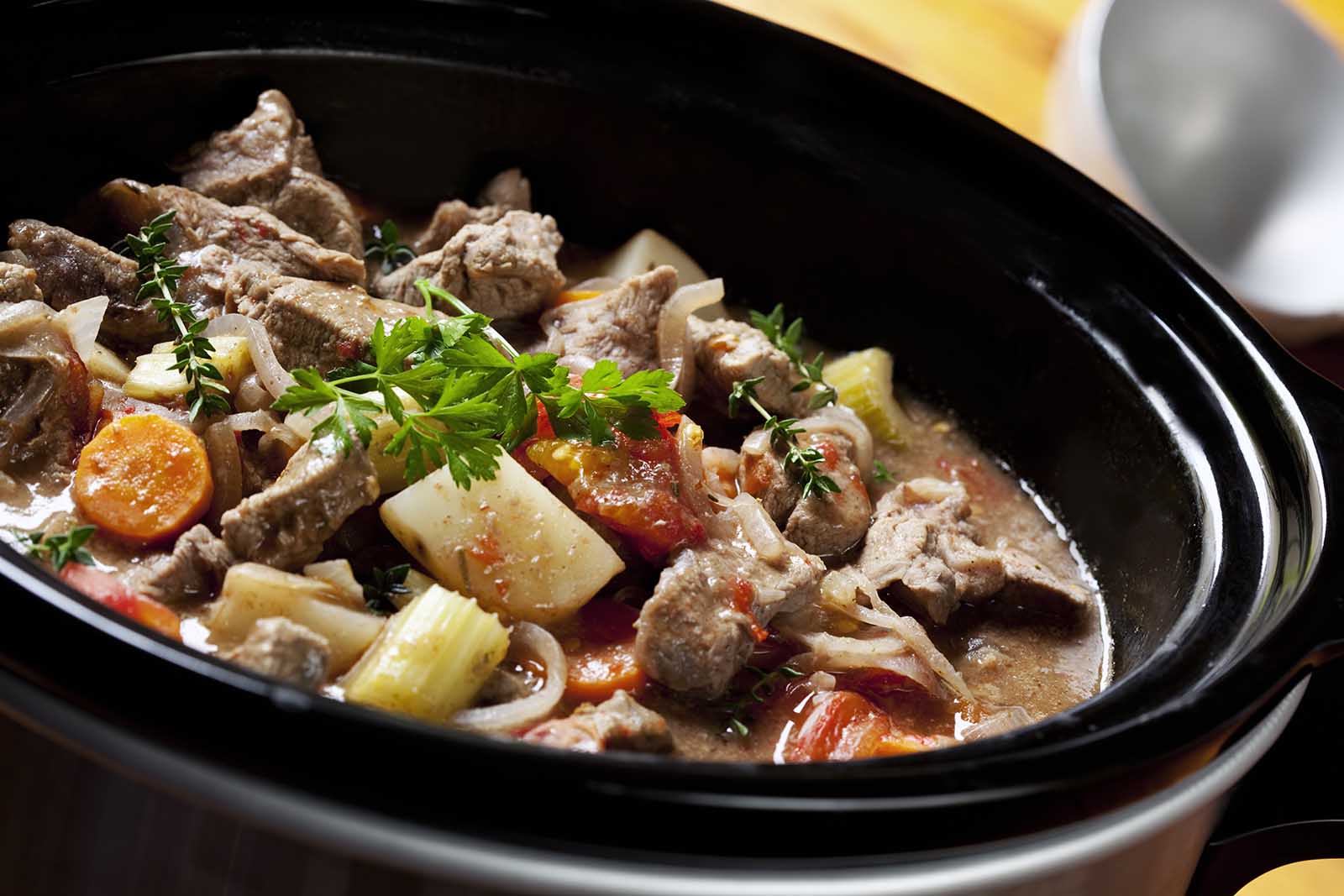 Slow Cooker Beef Stew
There's no better time than a cold winter night to enjoy a good old-fashioned slow cooker beef stew. We are sharing our favorite recipe. It…